In Ukraine, those with a disability are still being pushed to the margins of society. Young women in particular are pushing back and in so doing, they are creating a new generation of role models.
By Jasper Steinlein, Kyiv / Zaporizhia
Walking with Daria Korschavina along Kyiv's well-known Khreshchatyk street on the way to Maidan Nezalezhnosti is not so easy. People continuously pass by in close proximity, almost bumping into her, even though she is the only person in the crowd with a white cane. "It's a vicious cycle," says the 27-year-old who has been blind since she was two years old. "People with a disability are invisible to society because they mostly keep to themselves. They stay at home and are afraid of society. Society is also afraid of them because they don't see them and therefore, they don't know how to engage them."
The notion that everyone living in Ukraine are naturally healthy and strong dates back to the country's days in the Soviet Union. Back then, people with a disability spent their entire lives pent up in a care facility, barred from participating in everyday life. Today, society's collective understanding of normal body image is ever present. This perception assumes those with a disability are incomplete and their disability shameful. Moreover, any aspiration to lead an independent life is deemed unlikely or impossible.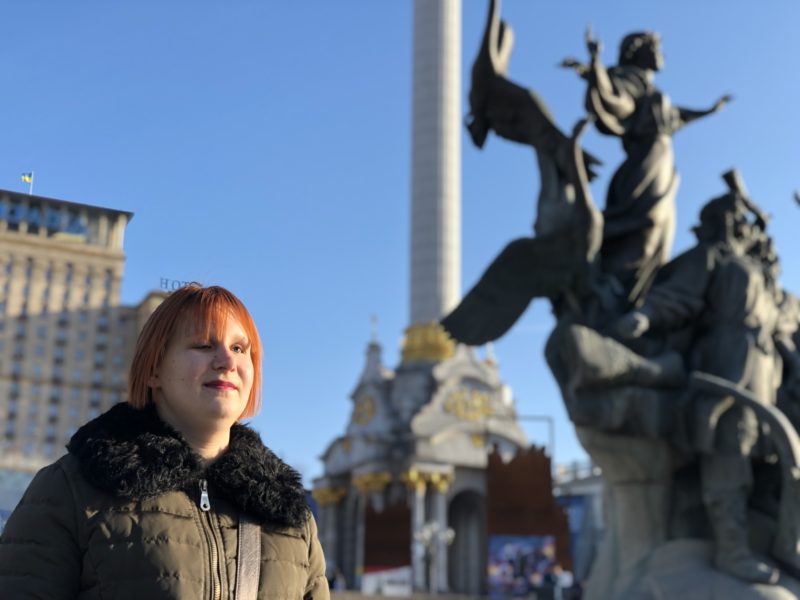 Even in the 1990s when Daria Korschavina was in school, the teachers at the boarding school were reluctant to organize any joint activities with students without disabilities. "This would be boring for the other kids and is completely unnecessary, they said," she recalled, but these prejudices never stopped her. After finishing school, she went on to study journalism at the Taras Shevchenko National University of Kyiv – considered an elite university in Ukraine. She worked as a radio reporter, even though finding a job with a disability in Ukraine is riddled with obstacles. "It's difficult to explain to employers that they should not look at your disability but rather at your expertise and the quality of your work," says Korschavina.
Short arms reach world champion
More often than not, Victoria Martschuk's experience is much more about being treated as disabled than living with a disability. The 28-year-old is sitting cross-legged in the training hall of the "Torpedo" stadium in the provincial town of Zaporizhia. Without any self-pity, she re-tells the story of how immediately after her birth, her parents gave her away because she was born with short arms. In the care facility she grew up in, every day life was strictly regulated, and the help of caregivers limited. "The good part was, that they taught us how to do everything independently instead of doing it for us. If a child didn't have any arms, they would still sit at the table and feed themselves. In the beginning I couldn't tie my shoes, but after a few weeks I learned how to do it," recalls Martschuk.
From her youth, she found console and happiness in sports. At the time, she would play football with the boys for hours. She took part in track and field, played table tennis and swam. When she left the foster institution at the age of 19, she found it difficult to get used to life on the outside. "By law, we should all have been given a place to live before leaving foster care and nobody, of course, took care of that," she complains. "Some became homeless while others have gone on to play sports or study. We somehow all tried to survive in this system."
Victoria Martschuk initially went on to vocational school and in 2011, was introduced through a sports instructor to the taekwondo trainer Yuri Babak. He was looking for "people like me", as she puts it. Babak and his wife Julia Volkova – who is also a professional athlete and taekwondo trainer – suggested that she should try the sport with the goal of competing in the Para Taekwondo World Championships in nine months' time.
Her ambition to begin training was met with discouragement but she sensed a big opportunity. Several doctors advised her against training for a professional career because of a heart defect and shoulder problems, but Martschuk persisted. "That was incredibly challenging, but everyone was shocked how someone who had never done taekwondo just shows up and performs," she says proudly. Today, Victoria Martschuk is the six-time reigning world champion and three-time European champion in para taekwondo.
In the beginning, there was no support from the state
Throughout her career, she has hardly had any support from the Ukrainian state, she says. The costs for participating in international competitions was solely her responsibility in the beginning. Even the Ministry of Sport dismissed the profits from her victories as "coincidences". "But when you come home with medals, everyone starts putting them around their own necks."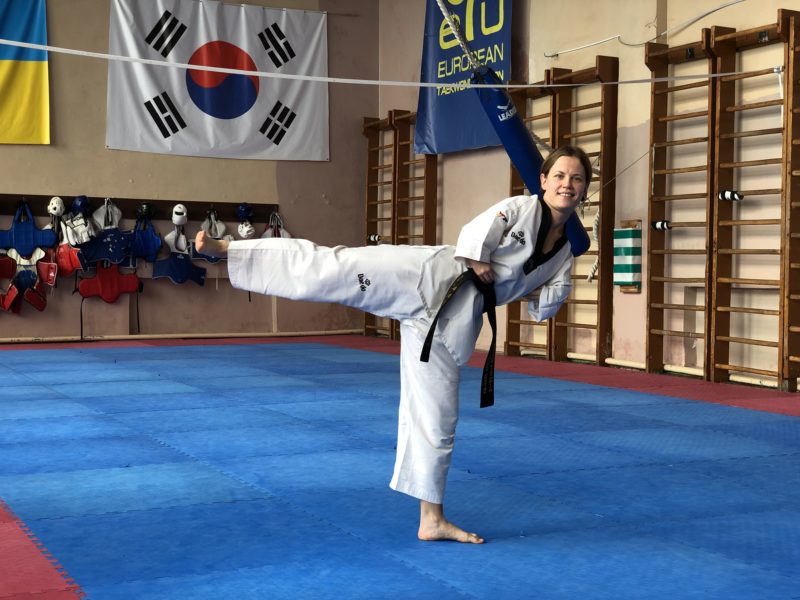 In time, Victoria Martschuk now receives a sportsman salary from the state. She has also since moved out of her allocated room in the dormitory for many reasons. One being that there was only one bathroom and shower for her entire corridor which she shared with many families. Another reason being that during one of her away trips, all her valuables were stolen out of her room. Now she commutes every day from the surrounding area to her training in Zaporizhia, an industrial city where many people treat her blatantly with disdain. "People cross the street, stare at me, point their fingers at me. I have to pay for the express bus even though I am entitled to have a free seat there. Nobody stands up for me."
Despite the disdain of many of her fellow Ukrainians, Victoria Martschuk has always believed in herself and her success: "I have learned to survive. I have learned that I can carry any burden. I can do anything I put my mind to," she says. Since her entry into professional sports, she has completed a bachelor's degree in speech therapy and a master's in physical education. She now trains a taekwondo group for children with disabilities. Most of all, it bothers her that children with disabilities in Ukraine are lacking role models they can look up to and orient themselves.
"Everyone has problems" – even without a disability
Back to Daria Korschavina: she wants to be more than living proof in Kyiv that those with a disability are capable of anything. This is why she founded the "Fight For Right" organization which pushes for more inclusion and equal rights supported by law. Above all, this includes educational campaigns but also extraordinary demonstrations with which the group goes as far to prove that a disability such as blindness does not indicate restriction. "For example, I went skydiving or drove a four-wheeler," she says.
Euphemistic terms such as "people with special needs" and "people with limited opportunities" are trendy with Ukrainians trying to be mindful of their language use. Korschavina rejects this: "Every person has special needs. Someone likes their coffee with sugar, another not, and then someone else would rather drink green tea. These are quite clearly special needs."
Moreover, someone can also have "limited opportunities" without having a disability. For example – going abroad and not being able to speak the native language. It is important for Korschavina to convey that the person is more important than the disability. Society as a whole benefits by implementing more inclusive measures. With its cobblestone streets and endless pedestrian underpasses, this is obvious in a place like hilly Kyiv: "Everyone has their problems, but what is important is that we solve them whenever possible. If it is not solvable, then it should at least not disrupt life."