The Queen of Skiing from Bamiyan
Afghan women discover winter sports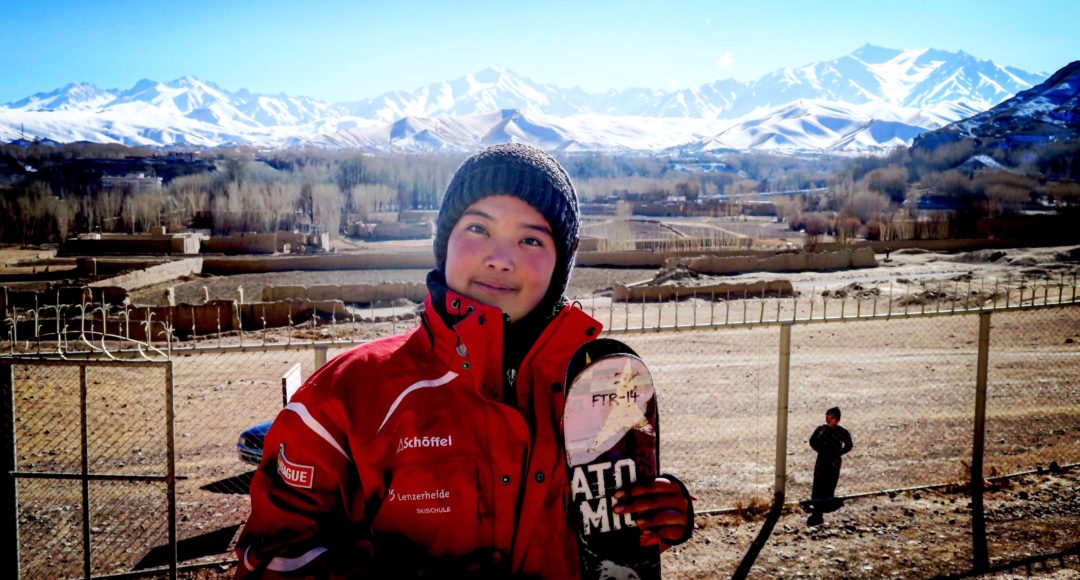 Fatima Nazari dreams of international competitions and of being one day at the Olympics.
Photo: Veronika Eschbacher
Fatima Nazari is the fastest skier in Afghanistan. She has won the "Afghan Ski Challenge" twice now in the Bamiyan province. The path that brought her to this point, and her goal to take part in the Olympics, was and still is challenging. In her hometown at the base of the Hindu Kusch mountain range, skiing is still in its early stages with basic infrastructure lacking such as ski lifts and groomed trails. Moreover, the financial funding for professional sports is extremely difficult to come by.
By Veronika Eschbacher, Bamiyan
Fatima Nazari's eyes widen with excitement as she recalls her short trip to South Korea. The memory of those padded ski lifts floating soundly four meters above the perfect white ski trails up the mountain makes the cheerful Afghan smile: "I was so happy," she says. It took two easy minutes and she was buckling up her ski boots to bolt down the mountain.
The 18-year-old's joy about a simple ski lift is not baseless. Skiing in Afghanistan is its infancy. This means there is only a modest infrastructure in place for Nazari and her teammates when skiing in the Koh-i-Baba mountain range in the central Afghan province Bamiyan. Here, there are no ski lifts and the equipment is second hand. In order for Nazari to reach her goals of competing internationally and becoming the first female Afghan to compete in the Winter Olympics, she not only has to overcome these challenges. Her father died when she was only nine months old. Since then, she, her mother and her sister have been working tirelessly to make this dream come true.
There are only a few stoves warmed up and a few solar lamps lightly glowing as Fatima Nazari folds up her thick winter blanket in the semi-darkness. She stows her things in the corner of the family's simple one-bedroom home. The young Nazari begins every winter morning with push-ups, squats and lunges before washing her face with a watering can of cold water. She packs up her books and starts the half an hour walk to school in double-digit freezing weather.
Skiing fascination
Nazari rarely walks from place to place, it's more of a sprint past the walls of modest mud houses in her poor neighborhood. At three o'clock in the afternoon she goes straight from school to the small beauty salon in the city's bazaar which she runs alone. Here she will stay late into the evening dying hair, styling elaborate wedding updos, and applying make-up in order to contribute to the family income.
When it comes to skiing, she gives it her all because she loves nothing more, she says showing cell phone pictures of herself in the snow. Her fascination for skiing started in Iran, where her parents fled to during the civil war and where she was born. Back then, she would regularly watch ski races on television.
Perhaps it was fate nine years ago that brought Nazari and her family back to the one out of the 34 provinces of the country where the Hindu Kusch mountain range is located; it was here where the history of skiing in Afghanistan began. In 2011, Swiss skiers Introduced the first "Afghan Ski Challenge" with the first rule being: no weapons. This was said rather as a joke than a warning as the province has been considered one of the safest in the country for years.
Skiers were an oddity back then, but that has since changed. Nowadays, over a hundred local skiers can be found every Friday trailing various slopes in the Band-e Amir National Park, the Koh-i-Baba mountains or in the Hajigak Pass. For those who want to ski, equipment can be rented from one of the eight local ski clubs which have between 20 to 50 members. Skiing is also no longer a male-only dominated activity, even though sports in Afghanistan are mostly reserved for men.
Only second-hand equipment
Nazari's skiing takes on its own look far different from what one knows from professional skiers on TV, starting with the equipment. The Bamiyan city's bazaar has nothing to offer in the way of skiing. Virtually everything the Skiclub Bamiyan has, which Nazari is a member of, was brought from overseas and mostly from the Swiss. The first two winters of her four-year ski career, Nazari had only skis and boots – no winter pants nor a winter jacket.
"We skied in our normal clothes," the young woman remembers. "And of course we were wet the entire time and constantly sick." In time, she was given proper ski clothes from a Swiss skier, but the bright red two-piece ski outfit was way too big. The jacket hung down to her knees. "My teammates thought it was pretty funny," says Nazari, rolling her eyes.
Last year, the women's team of the oldest ski club of the province – the Bamiyan Ski Club – had seven female members including Nazari. One of the girls got married in the summer and left the club. Two others fled the country with their families. Despite that, female recruitment is still growing with six new girls signing on this winter.
Along with her strength training in the morning, the 18-year-old runs regularly to keep up on her endurance. Additionally, and out of necessity due to the lack of operating lifts, she and her teammates have to pack their skis up the mountain at a 4,000-meter-high altitude. This can take anywhere from half an hour to an hour. "That was really difficult when I was younger," remembers Nazari. "Today we are stronger and know how to carry our skis better." Her mother supports her as much she can. She was the one who signed Nazari up for the ski club four years ago. "Today she works early in the morning until late evening in our store in the craft bazaar with my sister so she can buy healthy and energy-rich food," says Nazari.
Sponsors for the ambitious female athlete?
Possible sponsors in a crisis-ridden country like Afghanistan is wishful thinking. Skiing is still a niche sport in the country and has yet to prove international success. The few wealthy companies sponsor the national sport cricket, buzkashi (editorial note: a horse-riding sport similar to polo only instead of a ball, a goat carcass is used) or the football team. Women's sports are mostly supported through subsidies from the West such as the women's cycling team. Some funds were however partially reinstated due to corruption in the official associations.
The ski training season in Bamiyan is brief for Nazari. The effort her family makes throughout the entire year all goes into the month of February so that a ski trainer from Slovenia can be flown in by the ski club. Every day except Fridays for the entire month, Nazari practices three hours in the morning and three hours in the afternoon. The schedule is fitting for the female athletes because the school and university breaks take place in the winter in Afghanistan.
The first two days before training starts, the team has to do preparation work. The deep snow needs to be packed down by foot and since there is no one in the area who grooms the ski trails, the ski team prepares it themselves. Tuning and waxing their skis is also their own responsibility. Goal poles are only available for the final race; for that, the women improvise with setting ski poles in the snow to practice maneuvering turns. At least for this year, Nazari has seen that her hard work has again paid off. Nazari won the "Afghan Ski Challenge" in the women's classification for the second time, beating the best competitors by several seconds. With the 200-euro prize money, she plans to invest it into better equipment.
Despite the euphoria Nazari felt last year riding the ski lift in South Korea – the first time she was invited to an international race – it also makes her a bit sad. "It was then that I realized what professional skiing and professional training actually meant," she says. Her biggest wish is to regularly compete in international ski competitions and one day make it to the Olympics – something that two of her male ski teammates narrowly fell short of.
Nazari is however unjaded: "I'm determined to just train harder," she says, packing her skis onto the bus and trudging up the mountain alone through the deep snow.
Von Veronika Eschbacher , Kabul
Veronika Eschbacher ist Büroleiterin der Deutschen Presse-Agentur für Afghanistan und Pakistan. Davor war sie freie Korrespondentin für die USA und Afghanistan. Ihre journalistische Laufbahn begann als Redakteurin für Außenpolitik und Außenwirtschaft bei der österreichischen Tageszeitung "Wiener Zeitung". Sie beschäftigt sich in ihren Reportagen und Analysen vor allem mit politischen und sozialen Themen, aber auch mit Fragen der Sicherheits- und Wirtschaftspolitik.