One year of trash in one little jar! How is that even possible? For the last three years, Shia Su has consistently lived waste-free and explains how to do it on her website and in her book. For her, it's important to influence others by putting a positive spin on the so-called zero waste concept.
By Mareike Graepel, Cologne
"Even when I was a little kid, I couldn't get over the idea that when we were in the grocery store, everything needed to be packed in plastic bags when we could just bring our own bags from home," Shia says. As she's talking, she sets a stainless steel can on the table – later she will be attending a Greenpeace workshop and will visit the so-called plastic monster set-up on the Rhine; she comments to the can: "if we want to buy something to eat on the way." Planning in advance belongs to the daily routine of living a waste-free lifestyle. It's just a matter of habit, says the 35-year-old.
In the beginning, she was met with raised eyebrows for minimalizing her waste production. In time, however, her way of thinking started to rub off on her environment. Bringing a cloth bag for morning bread or having a jar for restaurant leftovers has all become part of the norm. Recently, she was selected out of more than 1,000 nominees by the digital magazine "Edition F" to the Top 50 women who use their voice to move society.
Without pointing an accusative finger, Shia communicates the zero waste concept by being friendly. Her message is nonetheless insistent and substantiated by hard facts, such as Germany being the top waste generator in all of Europe – this, according to a 2018 study by the Federal Environment Agency on packaging consumption. 18.16 million tons are thrown away every year. That's more than 220 kilograms per capita, per year and almost half of this comes from private consumers.
Since 1969, plastic production has increased twentyfold worldwide, according to the Ellen MacArthur Foundation. 95 percent of the products are thrown away after a single use. "That should not sound like the end of the world, but the scientific standard is that we only have until 2030," says Su. Her voice becomes serious and pensive as she continues: "We have eleven years time to avert the worst consequences of climate change. I do not want to know what happens if we do nothing."
The 35-year-old is not your stereotypical, alternative eco-hippie, nor is she some militant world reformer. Her way of talking is light, cheerful, and captivating and she is well-versed on the facts and topic at hand. She also pays attention to the details around her concerning waste, like my notebook with a synthetically made envelope sitting on the table. She suggests an alternative, because the only way to save the world is "if more people join in".
"Not super easy, but also not impossible"
A starting point, for example, is by consciously deciding against packaging made out of plastic, aluminum or laminated cardboard at the supermarket. Refuse the straw with your orange juice and go with a reusable coffee mug instead of taking the to-go cup. Shia Su says, "even as a child, this confused me: Why do adults know that this is wrong and do it anyway?" Any arguments stemming from too difficult, too expensive, or too elaborate she easily refutes with a few sentences.
"It's not super easy, but it's also not impossible. You shouldn't be too hard on yourself and you can take your time to get used to it," says Su. At first glance, it can sound overwhelming: unpacked organic products, extra trips to shops specializing in unpackaged goods – ideally by public transport – shopping in shops supplied directly from farms or visiting weekly markets. This can all seem more expensive at first glance, but: "Anyone who buys more consciously, wastes less and saves money. Statistically, more than 200 euros per person, annually." To the argument of inconvenience, Shia Su argues that in addition to shops that specialize in unpacked products, you can also look for alternatives at locally owned businesses.
A question of habit
In her book, "Zero Waste: Simple Life Hacks to Drastically reduce your trash" and her blog wastelandrebel.com, she writes: "We know that garbage – once out of the apartment and therefore out of mind – does not dissolve into thin air. We know about toxic landfills." Later, the 35-year-old will listen to the Greenpeace chemist Viola Wohlgemuth, who reports on the tons of German waste in the sea off of Malaysia. In her book, she writes: "I can't legislate, but I don't have to surrender to the guilty ping-pong between industry and consumers. Some people say they would do more, but then it costs so much that no one buys, and then others demand that the industry changes."
Su describes herself as a newcomer. Like millions of others, Shia Su had a lot of stress and little time in her job as a project manager for an IT company. In other words, she often took a ready-to-eat salad wrapped in plastic, which annoyed her every time. At some point though, enough was enough and she called it quits with her job in 2014 and radically changed her behavior: "I was completely dissatisfied and did not want to be part of the try every-new-product-on-the-market-hamster-wheel."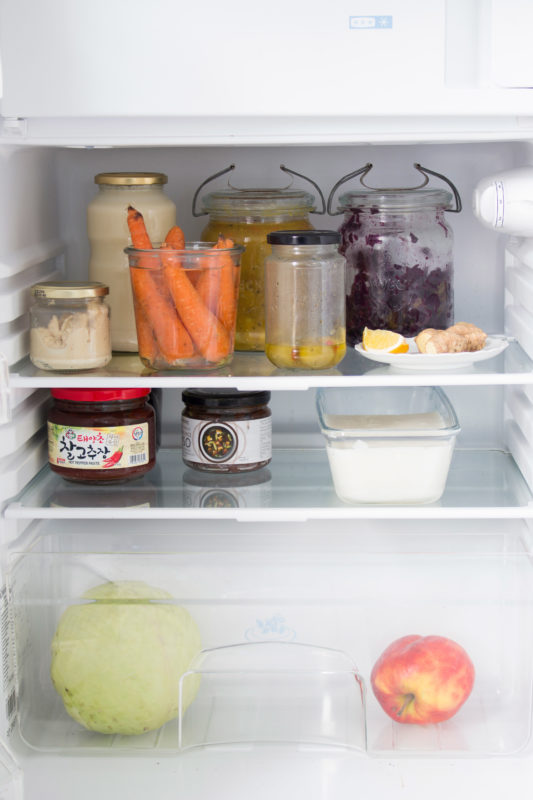 Today she can live off her book sales, her blog, and sustainability consulting. She moved with her husband to Bochum, then later to Cologne where they both live the vegan lifestyle. They carved out one year's time together in order to reconsider their consumption behavior. "I had a cake blog back then and wrote down how to buy the ingredients without the waste," she recalls. When the readers commented, Su realized she could do these kinds of package-free posts separately, and so her new website was born.
The book followed in 2016 and is also available as an e-book. Do-it-yourself dishwashing powders made out of baking soda and citric acid, wash your hair with rye flour, use sunflower oil instead of body lotion, self-sewn, cloth panty liners and how to survive without printed receipts. Shia Su recommends waste-free alternatives for the household, personal care and more. There are also tips for composting that are even possible in rental apartments. Her motto: "Just start. Wherever unnecessary waste is encountered, just charmingly ask for an alternative, and go to the next shop specialized in unpackaged goods." From here, Su heads to the Rhine where the Greenpeace team is waiting.
Women are the greener gender
The sun is beating down as people stroll along eating ice cream out of plastic cups in one hand and grasping a plastic bottle in the other. Children full of enthusiasm toddle next to their parents as they marvel at the colorful, six-foot-high dragon. The dragon is made out of shampoo bottles, food packaging and hygiene products. Products typically sourced from companies such as Unilever, Procter & Gamble, and Nestlé – the latter getting a particular emphasis in big letters reading: "Nestlé! No excuse – stop single use!"
Shia Su, along with other influencers, are briefed before entering the ship. Apart from actor and environmental activist Daniel Roesner, the attendees are mainly women. Studies also show that women are the more environmentally-friendly gender. Su takes notes, snaps pictures and swaps ideas with the others. Shortly before the event wraps up, the topic of how to field inquiries from corporations is discussed.
"McDonald's asked me for a cooperation. Crazy!" says Su. Others in attendance recall similar requests such as from clothing chains like H&M. "It's good that corporations are realizing that there is a re-think in society and that they can look better by working with consultants like us," says Shia Su. "But I almost never do such things, even though I get requests daily."
What is far more important for her is to keep her "sustainability talk" at the WDR station program "Cosmo", and to promote a life without waste in a pragmatic way. There are a few things that simply can't be avoided: "For example, I have to fight a lot with my allergies and take pills, which are only available in Germany in these so-called blister packages. Also, I'm clumsy and need band aids quite regularly." As an activist, Su comes back to her bottom line:" If I can manage to put my waste in a mason jar for a year" – she gets it out of the cupboard – "then anyone who wants to, can do it, so that we have a future on this planet."